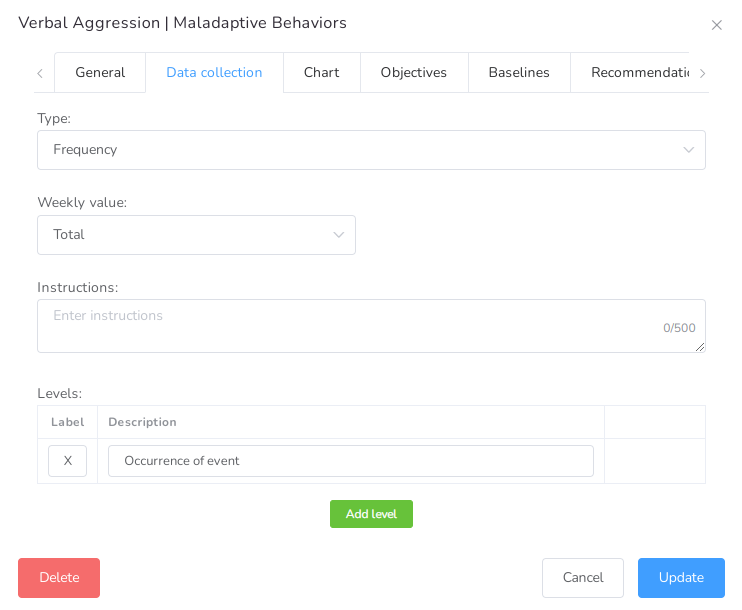 We have implemented more than 15 data collection methods, please refer to the following table for more details.
| | | |
| --- | --- | --- |
| Type | Description | Methods |
| Event Recording | The number of occurrences by a unit of time. Ex: hour, day, week, interval. | Frequency, Count, Rate |
| Time Sampling | Collect data at periodic points in time or time periods rather than on a consistent basis. | Whole Interval, Partial Interval, Momentary Time Sampling |
| Timing | Length of time the behavior, or event occurred. | Duration, Response Latency, Interresponse Time |
| Trial | Several ways to easily record whether a response has been Correct, Incorrect, or there was no response to the test applied. | Discrete Trial Teaching, Incident Teaching, Percentage of Opportunities |
| Task analysis | Task analysis is used to break complex tasks into a sequence of smaller steps or actions. | Forward Chaining, Backward Chaining, Total Task Chaining, Backward Chaining with Leaps Ahead |
Suggested number of recordings – Expected number of recordings for this element of the service plan. It is a suggestion, so they could go over this number.
Daily Value – Value calculated for the day, possible choices are: Total or Average.
Weekly Value – Value calculated for the week, possible choices are: Total or Average.
Instructions – These instructions notes are given for the user collecting the data, this will be displayed in the datasheet.
Unit of time – Determines the unit of time of the recording
Interval Length – Used for interval base collection methods to determine the interval length (in the unit of time)
Levels – If you would like to personalize the levels of data, you can do so by adding different Labels that will become the legend used.