The client dashboard is the home screen of the client, from here you have access to everything related to the client. In essence, shortcuts to other pages are placed in the dashboard for improved navigation.
There are three important sections in this dashboard:
Avatar
Summary
Shortcuts
Avatar

This visual representation of the client is intended for you to quickly understand which client are you working with.
You can change the Client's avatar by clicking on the image displayed right above their name, please notice that you might receive an error if you are not allowed to execute this action.
Summary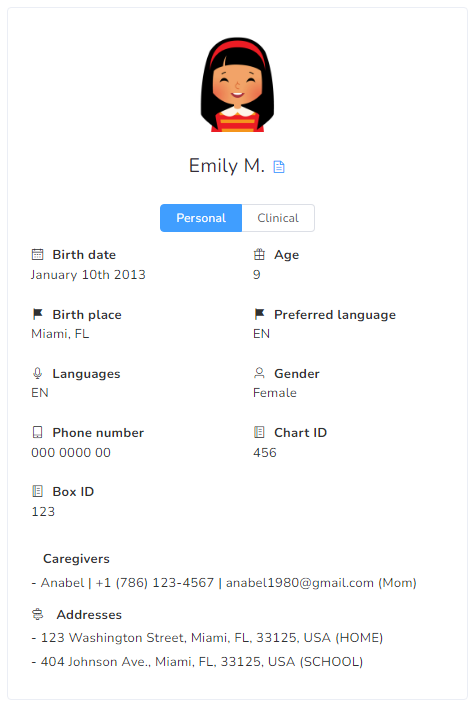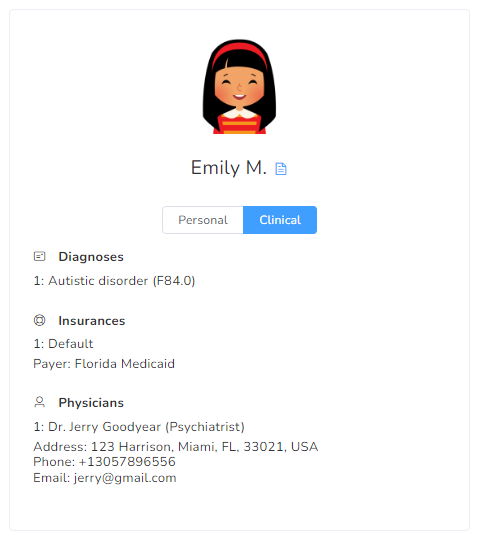 This is the summary of all the client information. You can switch between Personal and Clinical by clicking on each individual tab.
Inside the Personal tab, you can see all the major demographics of the clients such as Birthdate, Age, Birthplace, Spoken languages, Gender, Chart ID, Box ID, Caregivers, Addresses, etc.
The Clinical tab will display Diagnoses, Medications, Physicians, etc.
There is also the possibility to download a summary PDF by clicking the file icon right next to the client's name.
Shortcuts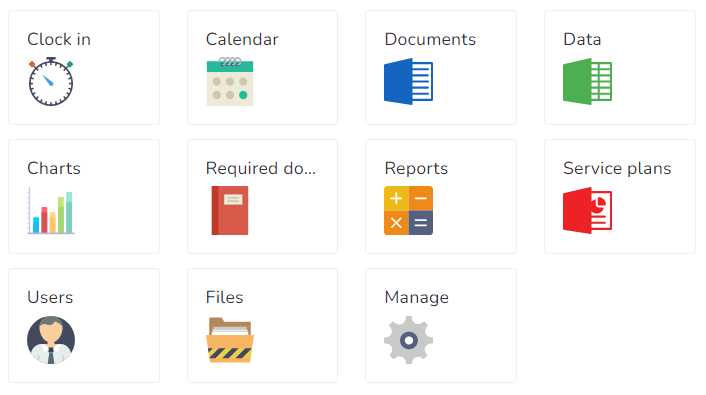 Depending on your access and the version of the application you are running you could see more or fewer buttons here, we will go over each one of them briefly.
Calendar: Access the calendar with all the events that belong to this client. Very useful for a visual representation of the Client's schedule.
Documents: Access to the documents created in the application by all the providers associated with this client.
Data: Access to all the data collected in the system.
Charts: Access to the charts of the data collected in the system, please note there is another shortcut to this section from the Data section mentioned above.
Required Documents: List of all the clinical documents required by the agency and their respective status.
Reports: Tabular representation of all the events that belong to the client. It's similar to the Calendar section, more intended to determine any warnings that might be associated with the events.
Service Plans: Limited to Providers with LEVEL 2 or more, this is where service plans are created, think of a service plan as the blueprint of how to work with the client. This is a very important section since without at least one Service Plan defined, many sections will be rendered useless.
Users: List of all the Users associated with this client.
Files: Cloud folder for digital documents of this client, think of it as a shared drive between the Agency and all the users associated with the Client.
Manage: Limited for administrators this is where the client's general information is modified.